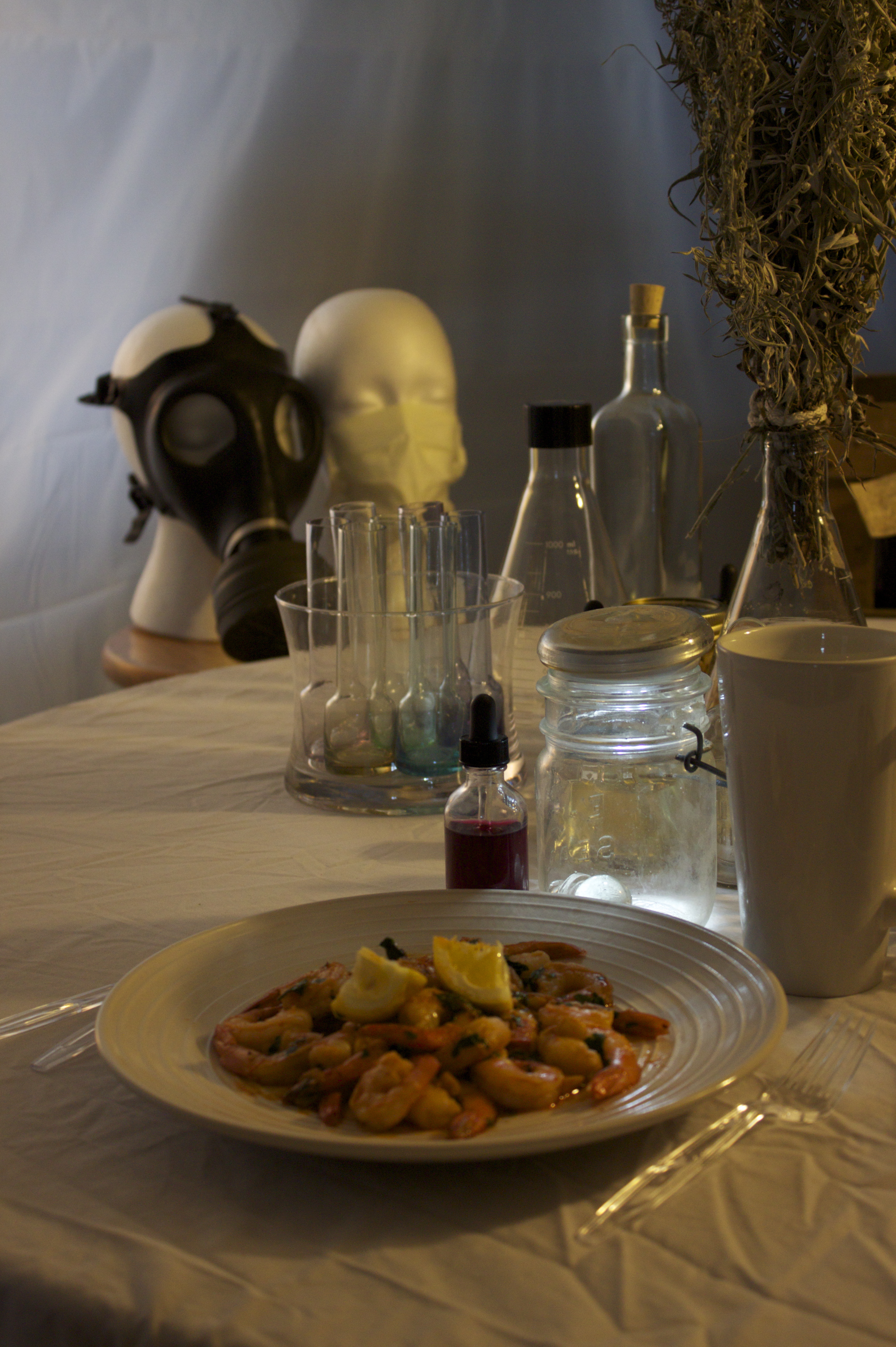 The first of the culinary incidents was an experiment in collaboration. For the first two months of the project, ten artists came together with a variety of ideas, but with a blank foundation. Through the process of research as well as sub-committees, we came up with three teams that would be responsible for those pieces of the experience; environment, culinary, and performance. Over the coming months, the teams crafted what became "An Evening With Professor Enki".
*any photo with "IMG_" was taken by a collaborator
The narrative told was of a nomadic scientific group experimenting throughout history on concepts of memory and time. The main character, Enki, was in search of his long lost love, Amaranthine. The performance told the story of Enki's history with his love, and how his goal of finding her somewhere throughout time was nearing a resolution. As the night progressed, Enki delved further into psychosis, eventually going completely mad. His troupe leaves him behind after his final unraveling, leaving the audience to question whether he found Amarathine or he simply was crazy.
Video montage of the various videos depicting Amaranthine
Taking place in the Lord Hall Gallery at The University of Maine, a dinner-lab was constructed with a rich audio and visual presentation, backdropped by two strange waitress-performers, and a variety of foods including gelatinous beat spheres and locally made breads. Gas masks, elegant table settings, and strange observing characters in full-science dress invaded the space. A maestro with a red Mohawk dressed in formalwear, as well as his partner lurked in the back of the room, controlling the audio and visual experience. The audience was in the midst of this performance as axes were placed next to their heads and strange food was served.
MENU FOR AN EVENING WITH PROFESSOR ENKI
• Scavengers Spread
• Beef Goulash
• Leaf and Root Sweet Potato Spinach Soup
• Poor Man's Bread Pudding
• Spiced Cider & Maple Tea
My part in this performance was as "Maestro" who was the video controller. Videos concerning the backdrop of the company in the form of PSA's were shown, as well as a variety of scientific, agricultural, and historical videos to enrich the presentation and propel some of the minor themes of the show including quality of life, safety, and government sanctioned nuclear testing. One example of this enrichment is a conversation Enki has with Robert Oppenheimer. The Evening Ends with a barrage of flickering memories and explosion.
An Evening with Professor Enki Performance – This is some clips of one of the performance nights of the production.